I spend hundreds of hours researching and testing so that I can provide you with the best money saving tips. I am supported by our readers and may earn a commission if you buy through our Affiliate Links at no cost to you. Thank you so much for your support. Read More
You might think that thrift stores are a place for great deals. This is not always the case.
I've always enjoyed going to thrift stores and garage sales looking for something truly valuable at a discount. Junk and hammered things are avoided at all cost. Instead I look for quality products like glassware, cast iron, cameras, and gently used electronics.
Shopping thrift stores – a treasure hunt looking for gems hidden in junk.
This weekend, I was appalled to find canning jars at $.99 each.
Are you kidding me?
This is ridiculous. Does the store think people don't know the true value?
I think I was offended more than anything else that they were bold enough to post prices like this.
Canning jars are easy to find brand new for $1 each (or less) with lids and rings. This crazy store had them for the same price as new.
Buying new means there's no sticky label to remove – not that this is that big of a deal.
New jars also come with a handy storage box all ready to go. The original box works great for long term storage or to go right on the pantry shelf.
I regularly see even simple jam jars for outrageous prices. It's straightforward to remove the labels, so collect these yourself for nothing.
Keep in mind thought that if you do find some for $0.10 each, then grab them. I'd gladly pay someone a dime to do the work of cleaning up for me. I have much better things to do with my time.
Where to Buy Canning Jars New
Walmart regularly prices a case of quart jars with lids and rings for around $12 a case.
Amazon also carries a full line of canning jars in 1/2 pint, pint, and quart sizes similarly priced to Walmart.
I have not found these at Costco but it might be my local store only, so check yours for availability.
Some home centers like Lowe's and Home Depot carry canning equipment so check out these as well.
Here's a list of things to avoid.
Jam Jars – Collect for free instead.
Canning Jars – Buy new by the case instead.
Front Loader Washers – Maintenance is so high that buying used is a gamble
Buy With Caution
Electronics – Test first. Most exclude exchanges. We recently found a $200 surround sound 200W stereo for $19.99
Computer Speakers – Test first
Dinner Ware
Digital Cameras – Hard To Test In The Store
Top Loader Washers
Clothes Dryers
We saw several front loading washing machines for $250 each. While this might seem like a deal buying at 1/4 the original cost, there is a big "if" this will actually save you any money.
Front loaders are complicated and a major pain to troubleshoot. You are often forced to hire specialty contractors to fix their common issues.
Moldy Seals
Out of balance drums
Failed electronics
These common problems are expensive to fix, so it's not worth buying old worn out washers. We even go so far as to buy extended warranties for front loaders since the chance of problems is so high.
For the budget minded – home centers and discount stores carry very simple front loaders for under $600. If you don't need all the bells and whistles, then this is a good option.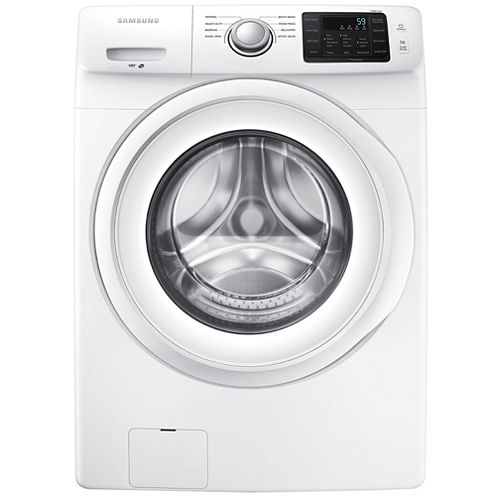 $579 sale
Source: Samsung 4.2 cu. ft. High Efficiency Front-Load Washer WF42H5000AW/A2 – JCPenney
Here's a list of things generally available at a huge discount.
Kitchen Gadgets – We scored a like new marble rolling pin for 25% the cost of new.
Bakeware – Glass (even Pyrex), Cast Iron, the occasional high quality stainless
Slow Cookers
Yogurt Makers
Quality Glass Storage Containers
Hand Mixers
Kids Toys
Kids Clothing
Suits and sport jackets
Leather Coats
Jeans
Computer Cables
Smart Phone Cords
Storage Boxes
Film Cameras – Even Vintage
Furniture
Bed Frames
Headboards
Conclusion
Thrift store shopping is a hobby and a lifestyle but you can get burned. Fortunately there are durable goods hidden in the mess if you are willing to paw through all of the junk.
If you are able to put on "filter glasses" then a thrift store is a resource.
Please comment below to share your stories of what worked and what didn't.